Pop-up NAILS BY METS Nail Bar in Brighton
I'm sure you didn't miss that last Friday was Black Friday, the most notorious day in the shopping calendar. Originating in the United States, it's a day where retailers traditionally slash prices and consumers go crazy, queuing from early morning outside shopping centres and then storming into stores, purchasing everything in sight.
Personally, I find Black Friday a bit too much which is why I was extremely excited to work with charity Hubbub on their #BrightFriday campaign. A breathe of fresh air, #BrightFriday was the alternative to Black Friday which encouraged people to think twice about spending unnecessarily. A satirical fashion magazine "Faux" was also produced as part of the campaign which poked fun at the fashion industry.
Setting up in the sunny, yet cold seaside town of Brighton, the #BrightStyles event focused on encouraging people to make the most of their existing wardrobes whilst enjoying complimentary chai tea and pampering. Styling sessions were hosted by Emma Slade from Back of the Wardrobe, with assistance from Chi.  Emma and Chi showed guests how to transform outfits with the simplest and smallest/inexpensive of changes using accessories and different styling techniques.
In the pamper trailer, make-up artist Sophie Moore (who also happens to own The Folly Boutique, an amazing online jewellery boutique) provided beautiful make-overs and dished out top tips on how people could achieve their desired looks at home. It was lovely to see Sophie teaching teenage girls how to achieve natural make-up looks, away from the harsh Instagram style make-up and also dolling up one lady who was on her way to a wedding!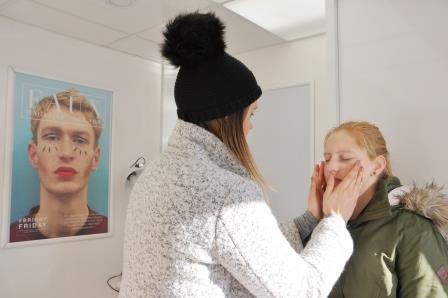 On the other side of the pamper trailer, I provided complimentary manicures using OPI nail polishes. I took along a variety of colours, including the Autumn/Winter Washington collection, bright colours to fit in with the #BrightFriday theme and of course glitter and metallic shades to get everyone in the party/festive mood.  It was a fantastically busy day and glitter accent nails were the most popular choice. Manicures were gratefully received and it was lovely sharing nail care tips and nail styles with local Brighton residents and tourists – all for free!
Thank you to Hubbub for hosting an amazing event! We hope to be involved again next year.
If you're interested in booking NAILS BY METS for your next event, get in contact today!
Mets