Ted Baker Pop-up Nail Art Bar in London
During March and April, NAILS BY METS had the pleasure of working with Ted Baker on their in store "Meet the Bakers" campaign. Across 5 key stores in the United Kingdom – Regent Street, Bluewater, Glasgow, Manchester and Westfield, NAILS BY METS manicurists were on hand to provide shoppers with complimentary express nail art manicures, with every purchase.
With the aim of promoting the new "Keeping up with the Bakers" Spring/Summer 2017 collection, a variety of different activities and entertainment were on offer in each store. In addition to free manicures, customers were treated to complimentary hair styles and shoe shines. Cameos were made from Mr & Mrs Baker, the Milkman and the Nosey Neighbour, with the Milkman giving out delicious milkshakes to keep happy customers "hydraTED".  An interactive "Nosey Neighbour" window display gave customers the chance to win a £1000 Ted Baker shopping spree.
As per the client's brief, I created 3 nail art designs for the campaign. Each design had to compliment the Spring/Summer 2017 collection and look book and be a balanced, simple design that could quickly and easily be painted during a busy event. I designed a simple mint green and white horizontal stripe design, emoji style heart design and a floral/daisy design on a pale yellow background.
The designs were a big hit with popular designs varying from event to event. In the Regent Street Store, the stripes were a winner!
Images from the Regent Street store event: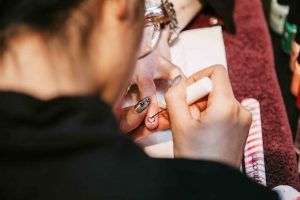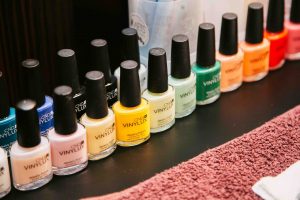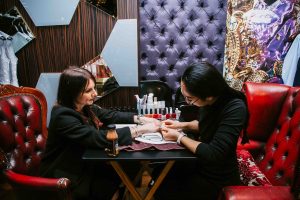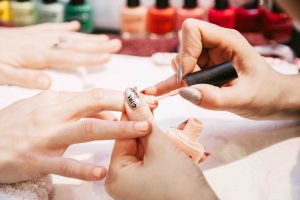 If you would like to book NAILS BY METS for your next event, complete the Contact Form today and we'll be in touch.
Mets.