I recently worked on an "After Hours" editorial for MUSH Magazine.
A sequinned inspiration from Leigh Bowery, taking us to clubbing and parties in the 70s. Model Natalia Munoz @ Wilhelmina lensed by photographer Peter Yip with stylist Otto Volquardsen.
Below is the selection of images from the feature.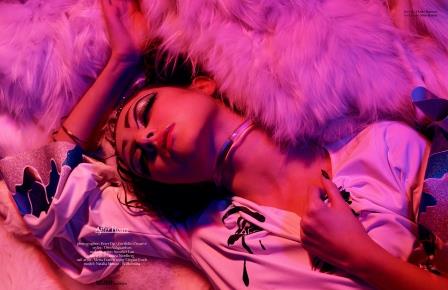 I created two nail looks that were featured – one graduated red glittery nail with a black border outline and one holographic silver nail look using nail foils. I used Elegant Touch full cover nail tips to create both looks.
Creative Team:
– Photographer: Peter Yip – Portfolio Creative
– Stylist: Otto Volquardsen
– Make-up: Snowkei Lan
– Hair Stylist: Linnea Nordberg
– Nail Artist: Metta Francis using Elegant Touch
– Model: Natalia Munoz – Wilhelmina
This was a fun shoot with a great creative team!
Mets x