In light of COVID-19 there are a few changes that have been made to the Nails by Mets experience. These are in place to mitigate the risk of COVID-19 but don't worry, there's nothing bizarre! Please read to ensure that you are fully prepared, just as we are, for your next appointment.
We want you to feel as comfortable as possible and to feel completely pampered so if you have any concerns, please contact us via the form or text/call 07539393225.
To book in, fill out a booking form.
See you all very soon,
Metta (Mets) ~ Nails by Mets founder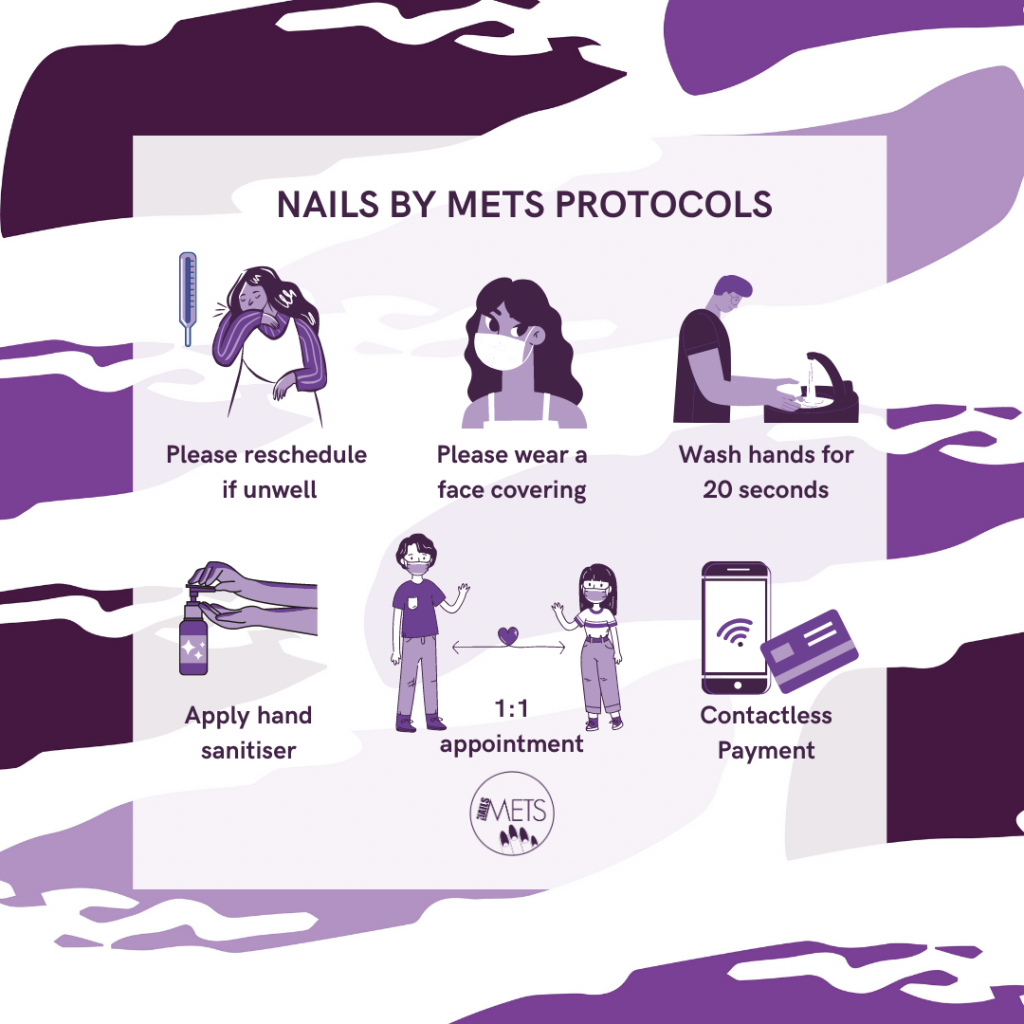 Before your Nails by Mets appointment:
• You will need to complete a COVID-19 Pre Screening Questionnaire
• Confirm what colour/nail design you would like as only the essentials will be taken to each appointment. You can check our Instagram or Pinterest pages for inspiration!
During your Nails by Mets Appointment:
• Please wear a face covering for the duration of your treatment; please have this on as soon as I arrive.
• A nail brush, paper towel, antibacterial hand wash, hand sanitiser will be provided for you to wash and disinfect your hands before the treatment.
• Please do not eat or touch your phone/face during your treatment.
• Appointments will be 1:1 and social distance is to be maintained from other members of your household
• Contactless payment only for now (no cash).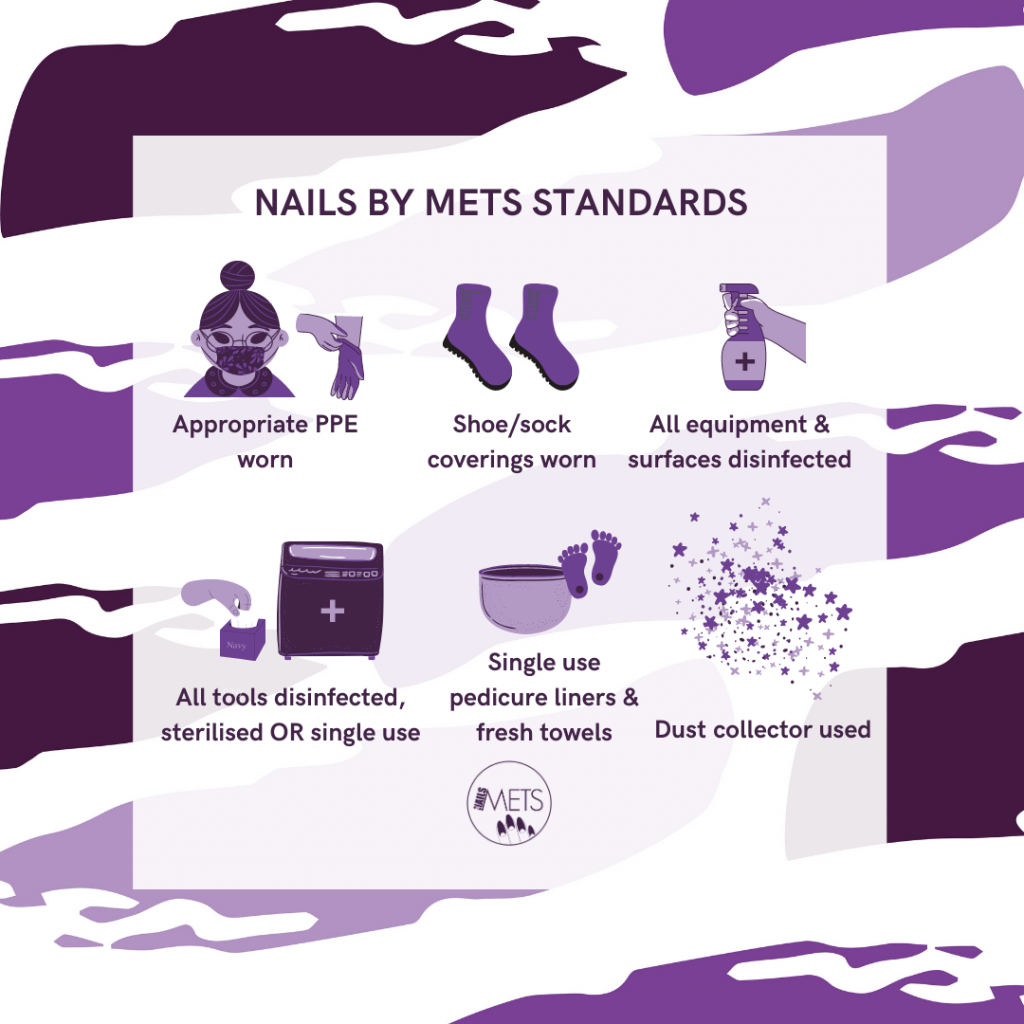 What to Expect from Nails by Mets:
• Don't laugh! I'll be wearing full PPE when you open the door (mask, visor/safety goggles, apron), including shoe coverings! As always, gloves will be used during your treatment. Single use items will be disposed of and reusable items cleaned & disinfected.
• A more thorough clean of all equipment/workspace will be carried out whilst in your home so please allow a little extra time for this. This will be for the equipment/workspaces used including the mobile table/stools. Don't worry, the equipment/kit will also – as usual – be cleaned & disinfected before entering your home.
• As standard, all tools are either single use OR thoroughly cleaned & disinfected. As an additional measure, a medical grade autoclave will now also be used to sterilise all suitable tools and accessories. This provides 100% peace of mind, by killing 100% of all pathogens.
• As always, single use pedicure liners and fresh towels will be used for every client & we aim to use biodegradable single use towels where possible.
• A dust collector will be used for all appointments. Some of you may already be familiar with this (nail enhancement clients). It can be a little noisy but does a great job of capturing all the nail filings and dust!
• Appointments will be rescheduled if any COVID-19 related symptoms are experienced by myself/Nails by Mets.
Some of this may seem OTT, but health, safety & hygiene has always been, and will continue to be, a #1 priority for Nails by Mets. This is one thing we pride ourselves on and one reason why our service is multi award winning. Book in today to see what sets Nails by Mets apart from other mobile nail service providers.