NEWS: Scratch Stars Awards 2017 Nominations
Every year I aim to push myself outside of my comfort zone as a nail technician and business owner and one way of doing this is to put myself forward for various professional awards.  The first time I did this was in 2015 when to my absolute joy, I won the Scratch Stars Awards in the "Mobile Nails of the Year" category.
Last year I was shortlisted as a finalist in the same category and last month, I was so pleased to find out that I had been shortlisted once again! The Scratch Stars Awards are so significant to me as they are the only awards dedicated to the nail professional here in the UK. The standards and level of competitors is so high that to get to this stage is an incredible achievement in itself.
The category has changed slightly this year – it's moved into the "business" categories and the judging has changed. There's no competition/judging day this year. A "mystery shop" has replaced this, something which I welcome with open arms as I feel it is more representative of a mobile nailist.
I'm not sure when I will be getting "mystery shopped" but I cannot wait for the celebrations in July with my fellow finalists and the creme de la creme of the nail industry! Congratulations to all finalists, especially the talented techs in my category: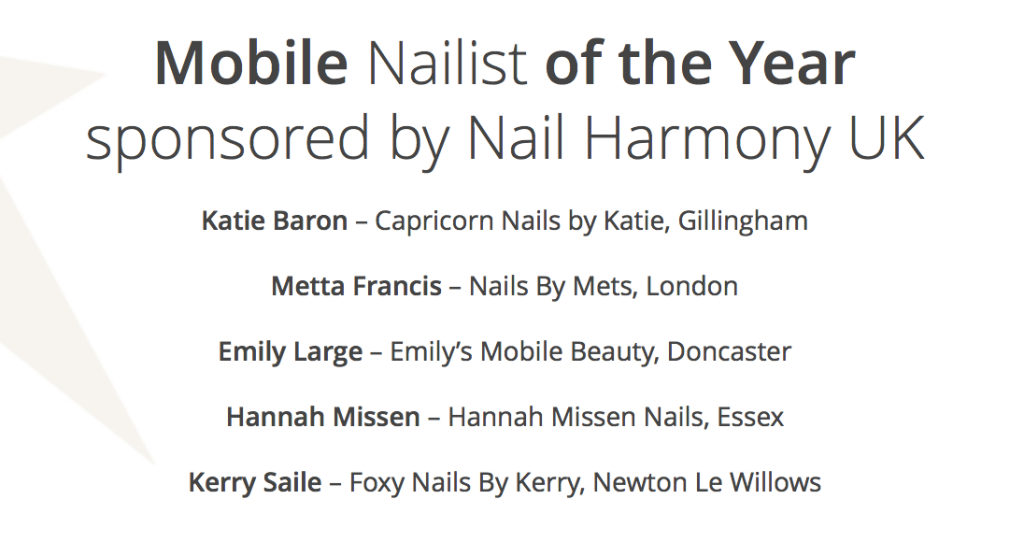 Thank you to Scratch Magazine and Scratch Stars Awards for providing such an opportunity for us nail professionals!
Mets
Comments