If you're not familiar with Instagram, where have you been?! Instagram is now one of the biggest social media platforms and is especially popular amongst the nail community. It's a great tool that can be used to find nailspiration, a nail artist OR to build your business if you yourself are a nail professional. We have found it extremely useful for showcasing our nail photos and for showing everyone what we get up to behind the scenes. If you're not following us already, our Instagram handle/username is @nailsbymets – come and join us!
Here's our top 3 tips Instagram plus read on for a link to even more Instagram advice.
Hashtags
Did you know that Instagram can be used as a visual search engine? Instagram users put "hashtags" on their posts so they can be categorised and found. For example, when we post images of our Nails by Mets nail art manicures, we add the nail art hashtag – #nailart – to the post and then another hashtag that is specific to the design. For example, #ombrenails #geometricnailart #negativespacenails. Simply search "nailart" in Instagram and you'll find millions of nail art photos. If you have more specific nail art in mind, use the relevant hashtag – this will give you an endless amount of nail art design inspiration! If you want to search for Nails by Mets' work, search "nailsbymets". You can even follow the hashtags so they appear automatically in your feed.
If you're looking for a nail technician/nail artist in your area, simple search "nailartlondon" "southlondonnails" etc to find someone suitable!
Nail pro tip: use relevant hashtags for your posts to increase the likelihood of being found by your ideal clients – lots of clients have discovered Nails by Mets via Instagram!
Collections
Once you've found a post you like, don't simply screenshot it, use the Bookmark icon in the bottom right hand corner to add it to your Instagram collections. You can even create a new category called "Nail Art" or "Nail Art Inspiration" so you have one place of reference. Think of it as a moodboard of your favourite styles! We love it when clients have an idea of what type of design they would like and we work with them to put a unique twist on it, adapting designs to suit our client's personalities and colour preferences. Visual cues help us understand what you like.
Nail pro tip: You can categorise nail art styles into collections, for example, Summer Nail Art, Festive Nail Art, Bridal Nail Styles etc. It's an easy way of having virtual, up-to-date galleries of your work – great to show clients during an appointment.
Private or Public?
When using Instagram, you have the option to have a "public" or "private" account. As a personal user of Instagram, it doesn't matter if you're public or private – you can choose either. BUT if you post a photo of your nail artist's work and tag them, they won't be able to see it if you have a private profile.
Nail pro tip:Always set your account as pubic. If it's private, no one will be able to find you via hashtags as you won't appear in the search results. It will be very difficult to build your Instagram presence and business with a private account.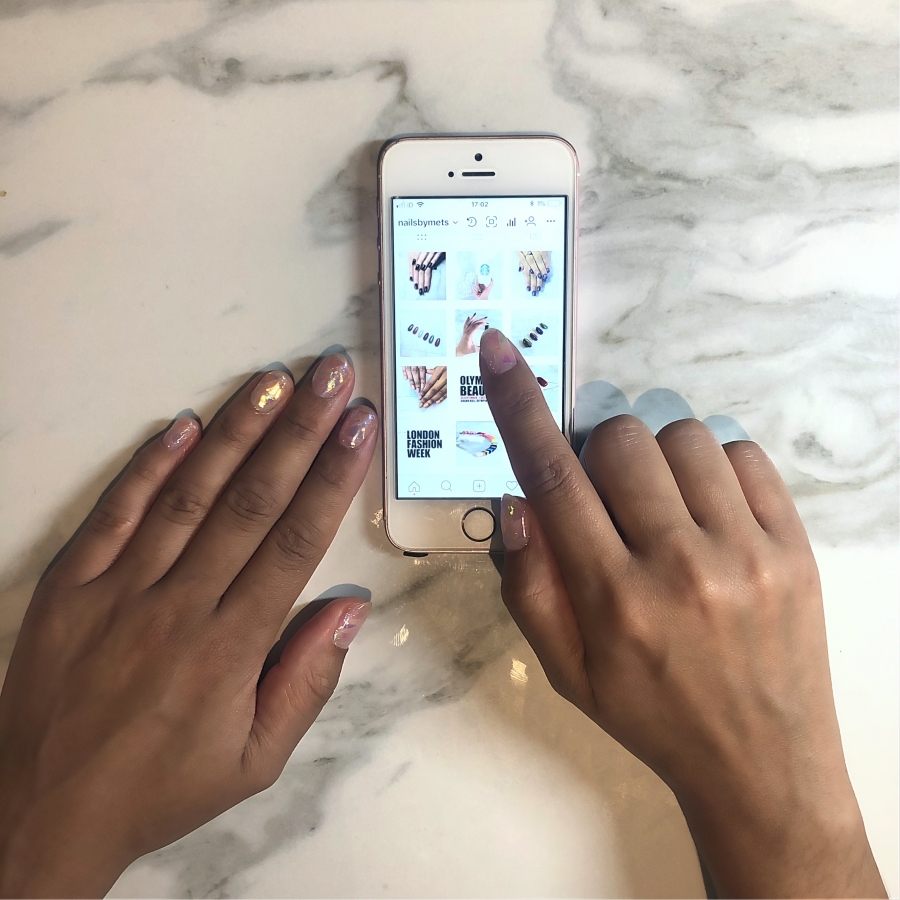 We hope these Instagram tips help you to get the most out of Instagram! If you're a nail professional or budding beauty entreprepreneur looking for more Instagram tips, click here to read a more indepth blog Nails by Mets founder, Metta Francis, wrote in partnership with Direct Line for Business. Direct Line for Business offers a wide range of health and beauty advice and knowledge, relevant to all size businesses so do check out their site.